Meet Attorney Adam Less
Criminal Defense and Family Lawyer in Stuart, FL
Attorney Adam Less has successfully represented countless clients throughout Florida, providing them with well-informed legal advice and protecting their rights every step of the way. His primary area of focus is in constitutional law, utilizing these established principles to evaluate criminal and family law matters. In fact, prior to founding the firm, Adam was an active police officer. He now uses his unique insight into the procedures of law enforcement to focus on suppression issues in criminal arrests. Adam and our team of legal professionals can walk you through the legal process while aggressively arguing against any violations of your rights.
---
"Adam is a great attorney. At my free consultation, he was completely honest with me concerning my case and didn't sugar coat what could happen. Every other attorney I met with told me all kind of lies just so I would hire them... most of them didn't even read my arrest report. Adam read my arrest report in front of me, and told me exactly what to expect. There are so many attorneys out there, it is nice not to feel lied to just for business. He handled my case exactly as he said, kept me informed and ended up getting me a reduced charge down from my DUI. He's great."
- Past client
---
Education & Background

Adam attended the University of North Florida for his undergraduate studies, where he graduated with a Bachelor of Science Degree in Psychology. He stayed there to obtain his Masters of Arts in General Psychology shortly afterward. As a part of his graduate work, Adam studied the effects of cross-racial identification in eye-witness testimony. He also presented at a variety of symposiums related to the topic.
In 2013, Adam obtained his Juris Doctorate from Drake University School of Law. While studying there, he concentrated on Constitutional Law and Public Service. In addition, he was a law enforcement officer at the Stuart Police department, where he gained invaluable experience and knowledge of the law. He uses his unique background in law enforcement and constitutional law to effectively defend his clients who have been accused of criminal offenses.
---
To schedule an appointment with our lawyer in Stuart, feel free to contact us online or at (772) 210-9097.
---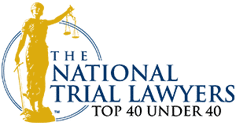 At ADL Law, P.A., we use years of in-depth experience, in both family and criminal law, to advocate aggressively for our clients. Unlike most firms that "churn and burn" their caseloads to increase profit, ADL Law, P.A. emphasizes case selection, allowing us to provide our clients with effective and personalized legal services to suit their specific case. Whether you are going through a divorce, are charged with a crime, or need assistance with another legal matter, Attorney Less can help you resolve it as quickly and as amicably as possible.
---
Awards & Memberships
National Trial Lawyers Top 40 Under 40
AIOCLA'S 10 Best in Florida For Client Satisfaction 2018
Top 10 Criminal Defense Attorney by Attorney and Practice Magazine